OLE BLUE (HOMOZYGOUS CLASSIC BLUE ROAN & HOMOZYGOUS BLACK TWH STALLION)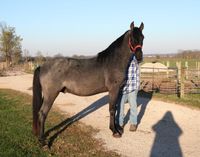 LIGHTNING'S MCCURDY FO103
OLE BLUE. or Blue as we call him, is a classic blue roan TWH  stallion.  He is homozygous classic blue roan and homozygous black.  This means all of his foals either will be classic blue roans or classic bay roans when bred to a black or red based mare. He is very easy to handle with a loving sweet disposition and a very natural 4 beat gait.  His DOB is 6/25/2018 and his TWHBEA registration # is 21801050.  .   We will offer his first crop of foals Spring of 2022. 
SILVER PROWLER CCF (HOMOZYGOUS SILVER DAPPLE AND HOMOZYGOUS BLACK TWH STALLION)
SILVER PROWLER CCF, or Prowler as we call him, is a Homozygous silver and homozygous black TWH coming 2 year old stud colt.  His genetics are very rare and hard to find. He is very naturally gaited and very laid back and very very gentle.  He should mature to be well over 16 hands.  His TWHBEA registration # is 22001631 and his DOB is 05/29/2020.  We will breed him to a few of our mares this Spring.  He is not available for outside mares.  
PLEASE SIGN UP FOR OUR EMAIL LIST